As a family-owned business, we always do our best to provide a personal, professional and reliable service. So, we're always pleased to hear we have happy customers like these. Thank you.
I have just had 2 tanks emptied by Aquassist and a great job done! The driver was very efficient and cleaned all areas down thoroughly. Having spoken to Ian who is the new owner yesterday he arranged the work within 24 hours which was fantastic! Great customer service and very pleasant to deal with. I would recommend without hesitation. J. Shaw, Hereford
Good to find someone on the doorstep who offers a quality service. I'll be using you again. Jim, Symonds Yat
Thanks for cleaning out my septic tank. Fast and efficient. Made a world of difference. Job well done. Janet, Leominster
My septic tank has quite literally been a pain in the a*** for ages, but you sorted it. Thank you. NoSmell. Bromyard

Helpful advice and good service. Drains now flowing properly, which they haven't been doing for ages. Mr Jones. Ledbury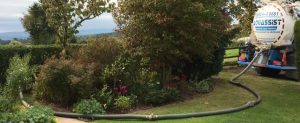 Good to find a quality service on the doorstep. Thanks for not messing up my flowerbeds like the last company did when they cleared out my septic tank. Doug, Ross-on-Wye

Septic tank now running 'sweetly'. Eric. Kington
It was a bit of a shock having to replace the old septic tank with a treatment plant. So, thank you for taking care of everything and making the whole process as painless as possible. Mr Preece, Hereford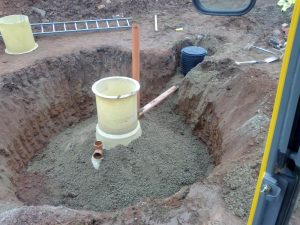 It took a while to work the hoses down to the end of the garden without damaging anything, but your guy did it. Septic tank now empty for the first time in many years. Thank you. Graham, Leominster.
Get your septic tank emptied or cleaned
We're specialists in emptying septic tanks and treatment plants and installing new ones across Herefordshire, Worcestershire, Gloucestershire, Monmouthshire and Powys. Our compact tankers can get to most places and carry extra long hoses. This means they can empty even difficult to reach septic tanks and treatment plants. So, just call us on 01432 353888 to arrange a convenient date and time.