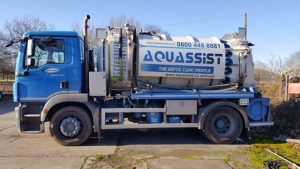 Aquassist – specialists in emptying septic tanks and treatment plants at homes and businesses in Hereford, Ledbury, Ross-on-Wye, Malvern and across Herefordshire, Worcestershire, Gloucestershire, Monmouthshire and Powys.
To book an appointment for septic tanking emptying, call us on 01432 353888, or email book@aquassist.co.uk
We are open and operating as normal during the Covid-19 pandemic. Our operatives will safely follow social distancing rules when visiting your property.